It was back in 2012 when I was working in a lawyer's office when a colleague of mine got an e-mail with an invitation from Morana Miljanović for interested students to get involved in the organization of first Croatian Model European Union. Back in the days, I thought Morana is some elderly woman and Model European Union is some fancy, high level, well-organized conference. Since I fancied European and International law, I applied with humbly applied for being a volunteer, thinking I am going to bring coffee to that fancy organizers and participants.
A few days later I had a meeting at the terrace of the Museum of Broken Relationships with Morana, when a women/girl just a year or two older than me, in a fluttery dress came – I was confused ☺ Here is the picture of and "elderly woman" – Morana, founder of MEUZ.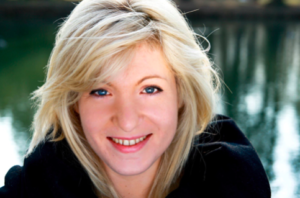 It turned out there is already an existing conference of this thing and Morana wanted to reproduce this model to Zagreb. We started with work and everything was, from this perspective, very basic. Few people were involved, mostly from the Faculty of Law – Matija Blaće (well-known as God of MUNs ☺), Ivan Zrinjski, Iva Ćorić and Filip Žafran helped with three or four volunteers on the actual conference. The conference took place in the premises of the Faculty of Law, but not even in the main building. We had 48 participants of which the only one coming from abroad – Manuel Kostka (who later founded Model European Union Vienna).
Since Morana was living in Berlin, I took over most of the logistics part of the work and before the conference I was "promoted" to DDG. I mean, since there was only a few of us I would say we all did all. I remember one e-mail I sent to above-mentioned colleagues which I signed as "your DDG, your head of logistics, your cleaning lady, your driver and your volunteer". ☺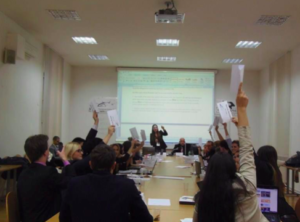 With the given, I think we made the best out of the conference bearing in mind we had less than 13 000 kunas budget. At the end, people were satisfied. I think because the content was good and because that year actually nobody expected nothing glamourous.
It was immediately after the conference when Morana asked me to be the DG for the next year's edition. I think I owe one explanation before I continue – it supposed to be MEUZ 2012 but then the dates shifted to the second week of the year 2013, so at the end first MEUZ was MEUZ 2013.
So….I said yes not actually knowing what I was going into, I just knew it must be better from the last year – that's the point, right? And that's how it all started – one year erased from my life ☺ (those who were DGs know what I'm talking about). I became a member of HERMES, as well,  the organisation that grew vary fast organising, alongside MEUZ, a couple of rather big projects in Croatia and numerous projects in partnerships.
From the previous organising team only Ivan Zrinjski, better known as Zri, stayed and he was my DDG without whom I wouldn't be able to make it because he took over the whole part of content aspect of the conference and the unavoidable Matija Blaće as the Coordinator of Chairs. In April 2013 I went to MEU Strasbourg as a guest. I was thinking it over and over, mainly because I should have to finance it by myself and I wasn't that rich at the time…well, neither am I now ☺ But at the end, I went and that was one of the best things I could have done for the organisation of next MEUZ. It was there where I met Viktorija Nuić, Tomislav Leko, Dijana Čavlović, Vanja Krasnić, Sonja Borić, Toni Nogolica and Marko Bohaček who all hugely contributed to the quality of MEUZ 2014. Not because of me as the DG, but I really think that edition was the turning point for MEUZ. We continued excelent relations with BETA, we got HSA as partners from which many people were working in the PR and Logistics but most important we applied first time for Eramus+ (then Youth in Action).
But we failed, for a formal reason.  It was a really hard year trying to find some source of financing…but nothing worked out. At the end conference was held at the University of Economics with less than 12 000 kunas but it was far more organised: there were about 25 people working in different teams, we have had prepared all topics and new material, there were 17 participants from abroad, we've got support from Croatian MEPs in the EP and thus the Patronage of the European Parliament. We had amazing chair persons who financed their travel costs by themselves. I was feeling really bad none of the financing options turned out well for us because I felt people who were working on this conference should have had been appropriately rewarded. But in the end, we've got good feedback from the participants and I guess this is why you do it. At the end, we Croats always have best socials 😛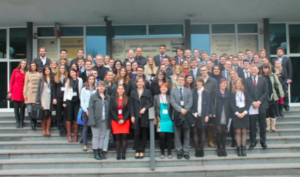 But why did I say it was the turning point? With really not much hope we will be lucky this time, after the conference, we applied for Charlemagne Youth Prize and – we've got it! MEUZ 2014 was announced best Croatian project of the year 2014.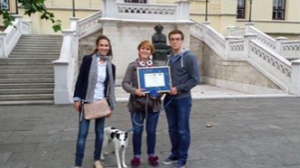 With this kick, I have handled the bat to Viktorija Nuić. I've stayed in the organisation as a supervisor. Two of us have applied the project in April 2014 on Eramus+ and this year it was a success. It was a few months later that I got pregnant and I remember the conversation we had when I told her she will need to take over the control and stop asking me for everything. She has told me later on that that was one of the best lessons she had. Well, I think there were more important lessons than mine but – she took hell out of the control and she handled the conference like a boss. The thing is, this is not my story anymore so Viki should tell you the rest of it.
I had birth on 14th of March and MEUZ 2015 started 5st May so my little baby girl was not even two months old then. I thought I will not show up but at the morning of the opening ceremony, Lena was uncommonly calm so I wrapped her in the elastic wrap and just popped out on the ceremony. This picture was not taken on that exact day, but this is how the youngest guest of the opening ceremony looked like. <3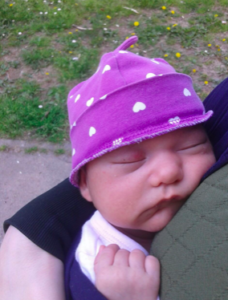 Viktorija passed on the project to Tomislav Leko, who took it to the whole new level with structured dialogues and many new, improved qualities. I've stayed on this project as a supervisor, but Tomislav really didn't need that. The conference will start in two days and it looks it is going to be a big BOOM. I mean, Mislav Bago is comming with his filming crew to the opening ceremony. To those who don't know – Mislav Bago is a journalist who always has THE interview with the politicians and who is THE person who speaks about important topics in the country.
I guess what I'm trying to say is that from the "glamorous" conference I thought I am applying to bring coffee to VIPs, MEUZ bacame THE glamorous conference.
Blog post by: Morena Pavlišek