MEUZ 2013 was organized by the Croatian Educational and Development Network for the Evolution of Communication (HERMES) with the help of the non-profit non-governmental organization Bringing Europeans Together Association (BETA), in Strasbourg; and the student association at the Faculty of Law at the University of Zagreb Pravnik.
MEUZ has been initiated and designed by Morana Miljanović, the project leader and MEUZ 2013 Director General, and developed in joint efforts with the members of the Secretariat and the Executive Committee, with support from BETA. Most of the teams' members as well as the project leader were graduates or students at the Faculty of Law at the University of Zagreb, and have had extensive experience of participating and/or chairing the Model United Nations and/or Model European Union conferences. The Executive Committee consisted of the Committee Coordinator and Deputy General Director Morena Mitak and the Recruitment Officer Dina Salapić. The Presidents of the European Parliament were Iva Ćorić and Matija Blaće; the Presidents of the Council of the EU were Filip Zafran and Ivan Zrinjski. Ines Roder is responsible for MEUZ PR. Volunteers Goran Bojčić, Jelena Karamović, Simona Miljanović, Leo Novosel, and Ana Ćorić, assisted with logistics.
MEUZ 2013 enjoyed the official support of the Croatian Ministry of Foreign and European Affairs, the Faculty of Law at the University of Zagreb, as well as the Delegation of the European Union in Croatia.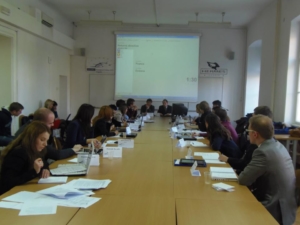 The number of the participants:
24 MEPs
22 Ministers
Total: 46
0