Model European Union 2014 was held a couple of months after Croatia has entered European Union by the end of February of 2014. The conference was again organized by the Croatian Educational and Development Network for the Evolution of Communication (HERMES). 
Along with BETA, the new partner was Croatian Student Association (HSA), Zagreb's Debate Union and A.D.E.L.
The organizing team was led by Morena Mitak (DG) and Ivan Zrinjski (DDG).
The total number of the participants was 54 and the conference was organized under the patronage of the European Parliament, Ministry of Foreign and European Affairs of Croatia, EU Delegation in Croatia, European Parliament Information Office in Croatia, City of Zagreb, Faculty of Economics and Business (University of Zagreb), Croatian Lobbyists Association, Croatian members of the EPP group.
The topics discussed included Resolution on shale gas and General Data Protection Regulation.
The MEUZ 2014 has also won the National Charlemagne Youth Prize.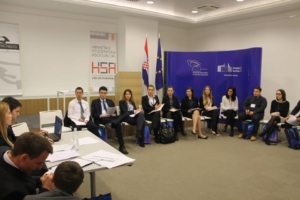 0