The third edition of the conference Model European Union Zagreb was held from 5th to 9th of May, 2015 as a part of Europe Days in Croatia. The conference has been once again organized by the Croatian Educational and Development Network for the Evolution of Communication (HERMES) and Croatian Student Association (HSA).
MEUZ 2015 was fully funded by ERASMUS+ for the first and has been supported by 13 partnering associations from 13 countries such as Bringing Europeans Together Association e.V. (Germany), BEUM Student Association (Serbia), A.D.E.L. – Association for Development, Diplomats@Dundee (UK), AEGEE-Heraklio (Greece) and more.
The project received a patronage of the European Parliament and the Office of the Croatian President, as well as support from the Ministry of Science, Education, and Sports and Ministry of Economy. Furthermore, all Croatian MEPs have supported MEUZ (EPP – Ivana MALETIĆ, Andrej PLENKOVIĆ, Davor Ivo STIER, Dubravka ŠUICA, Marijana PETIR; S&D – Biljana BORZAN, Tonino PICULA; ALDE – Jozo RADOŠ and Ivan JAKOVČIĆ; G/EFA – Davor ŠKRLEC i ECR – Ruža TOMAŠIĆ).
The organizing team was coordinated by Viktorija Nuić (DG) and Tomislav Leko (DDG).
The topics discussed included Directive on Small and Medium-sized Enterprises and the Regulation on Self-certification of Importers of Conflict Minerals.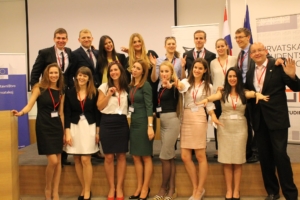 The number of participants:
55 MEPs
28 Ministers
5 Lobbyists
7 Journalists
6 Chairpersons
Total: 101
0